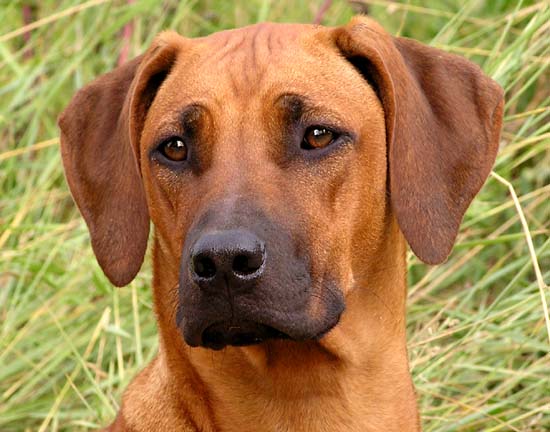 Ain ` t she Beautiful NYATHI
"BECKY"
ČLP/RR/3106, SPKP 847

she was born on 29.11.2003
and she left us on31.10.2004

CAJC, Club res. CAC
Club competetions of SKCHR at baby category:
COURSING: 4th place
AGILITY: 4th place
OBEDIENCE: 3th place
it is still very hard to believe,that she is not with us enymore

WE LOVE YOU FOREVER !

Becky was our little devil- which we loved so much.
We were very happy, that she was ours. She was the most michievous girl I ever know from Ridgebacks .
Her life was stoped by car accident. That day was very cruel for us.
We still missing her.
Here is Beck LIFESTORY.
Becky was without white marks, with beautiful dark eyes, full scissor bite
Breeder: Petra Krejčová, Ke Krči 5, 147 00 Praha 4, CZECH REPUBLIC
Web: NYATHI
Owner: Milada Krchňavá, 919 33 Trakovice 37, SLOVAK REPUBLIC
Web: LUANDA

I love Rhodesian ridgebacks and my objective is to be a good breeder with an excellent dogs.
That's why I decided to bring to our family a new RR female, with a promising pedigree that can be a benefit for the ridgeback population in Slovakia.
In June 2003 I started to look for a breeder, who could offer me, what I was looking for. I also asked the experienced breeders for advice and they suggested to contact NYATHI kennel. Afterwards I contacted the owner of NYATHI kennel Petra Krejčová and she informed me about her plans to breed:
Terrouges Thembi x Ozrhode Dia Hot Prospect "Vulcan".
Thembi was imported from Africa (JAR) to Czech Republic. She is from 7 puppies: no kinked tails, no dermoid sinus, all of puppies have complete scissors bites. Her lines are balanced in size and type, the white markings within the requirements of standard, no black colour, some dogs have black mask. Thembi comes from the CARTOUCHE line -owner: Richard and Debbie van Aken (JAR) and the KIMANI line – the owner: Alicia Mohr (USA). Both lines produce full dentitions and dogs with negative HIP results.
Thembi is a very healthy bitch: negative HIP and elbow results, correct function of thyroid gland, clear eyes. Experienced breeder and judge Liz Megginson chose her for Petra Krejčová.

Vulcan was imported from Australia the OZRHODE kennel –owner Sue Cameron, to Spanish kennel MOLEMAMUA ROO. He is of 7 puppies- no kinked tails, no DS, all of them have complete scissors bites.
Vulcan has a black nose, but carries also brown nose gene after his grandfather Anabarah Barrister Brown. Sue Cameron of Ozrhode- breeds only on a healthy dogs, and Ozrhode lines are well-known around the world. All puppies have been tested HIP and elbows with negative results, clear eyes and hearts, full dentition, correct function of thyroid gland and no allergy.
On the 29.november 2003 Thembi whelped 8 beautiful puppies: 6 boys, 2 girls.
In spite of many applicants for the pup's I was lucky to become an owner of a special girl: Ain´t She beautiful Nyathi. (We named her BECKY).
Becky is a red wheaten coloured, without white marks. She is incredibly full of
energy and very mischievous. Our "adult" dog-girls Lady and Megy took her to the pack for a life-lasting friendship. When was Becky 2-4 months old, she tried to "kill" everyone and everything around her. After the raid she falls asleep on Lady or someone who is nearby with an innocent expression. Her favourite place for sleeping is under the blanket on the bed. Sometimes we can not find her for a while (at that time I used to be nervous…) she is very inconspicuous :o).
However, we love her so much and we believe that she will be obedient and successful lady, as is her mom Thembi.
I am Thankful to Monika Tušanová, TUSANI kennel, and Šárka Štusáková, ANUNNAKI- kennel, because in my opinion they know a lot about the breed, and they want for Slovak and Czech breeding only the best.
Also my thanks belong to Petra Krejčová, NYATHI kennel, for our Becky. Petra is very educated, informed and very serious breeder with a big interest in the ridgeback world.

The end of the year 2004:
Our dreams and plains did not come true. Our darling Becky left us in a terrible accident on 31.october2004.

Becky was beautiful and gorgeous girl in each way. She was very healthy, clever and also obedient. At the shows, she was eye-catcher- judges like her beautiful atletic and very elegant body, very nice head and the energy- she was shining at everyone. We were very proud of her- all her life.
Thank you Becky for everything- we love you forever.
To see Becky´s life story click on this picture.