25.March 2018 - we welcomed our so much expected I - litter (Yman x Dodger)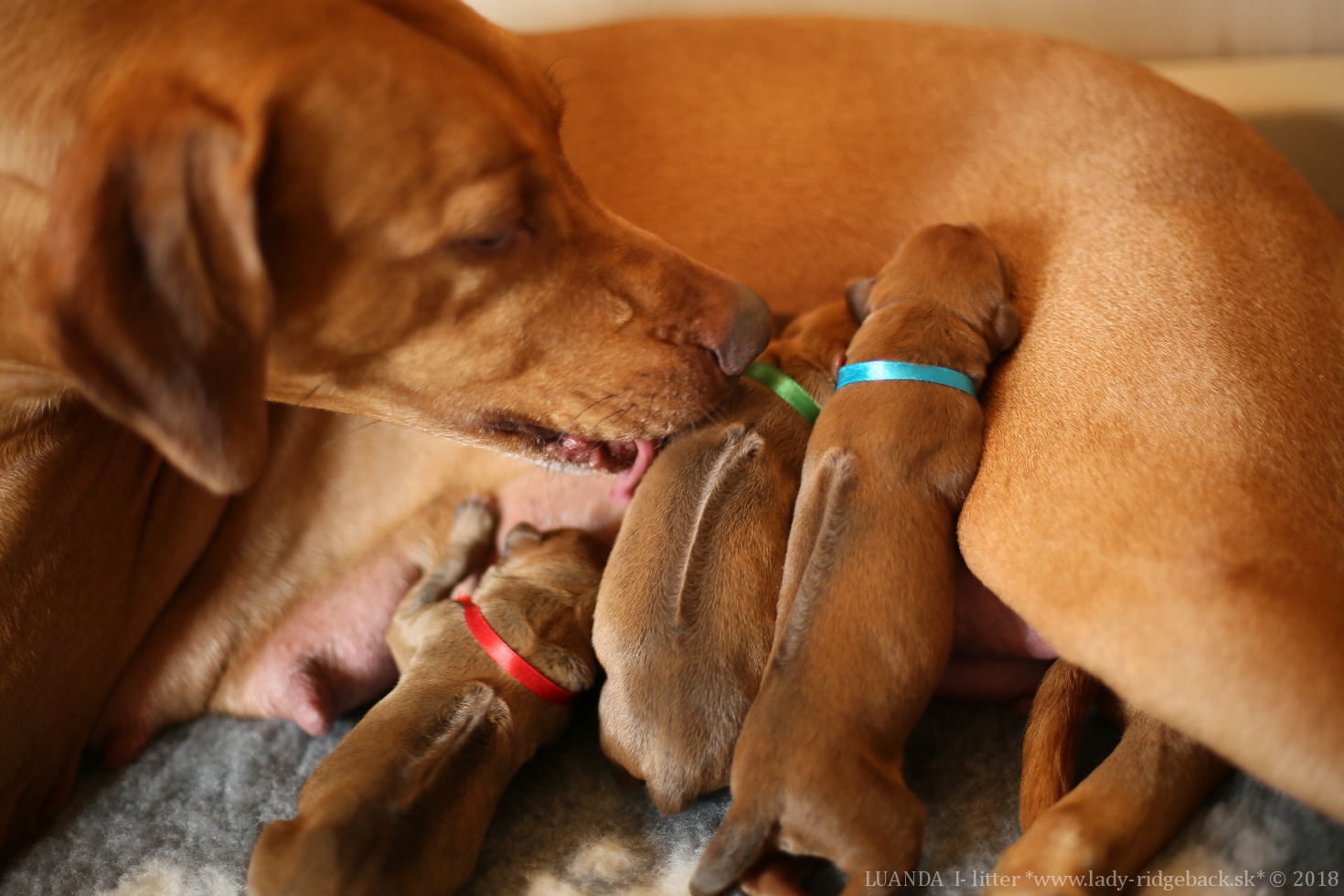 We have 3 puppies: 2 boys - liver nosed and 1girl with a black nose.
All puppies with ridges, tails- ok, no excessive white, DS - not found at the moment.
If you have SERIOUS INTEREST in a correct LIVER BOY pls contact me.
to read the fulll story of the 25.March 2018 - read more.....
25. March early morning Ymi delivered first puppy boy - mr Blue - liver nosed boy.
Ymi had long pause and another contractions came about the lunch time, but no puppy delivered. I contacted my vet, and were waiting for another contractions wich were about 14:15... but unfortunatelly no puppy delivered.
I had phone calls with 2vets and made decission to check Ymi´s babies in belly on USG... and than we immediatelly decided for c-section as the USG showed us, that it is almost late.
My HEARTIEST BIG THANKS to Enrico Stefanizzi  from Animal Clinick Pasek - who made his best to bring to the world one girl an one boy. Girls heart did not worked and Enrico did his best to bring her back, he made miracle and She is HERE with us !!! and also for the other baby boy, who was strong enough to came ok. Both puppies were jammed on the way out /both went the same time out, but it did not worked/. It was the right decission to do the c-section as Yman would not deliver them in normal way - just in hour 12:00. Yman is doing so well and care amazingly for her babies, and our 3 musketiers eating so much and gained theirs weigh well.
I am thankfull to both my veterinairs and also to the God and stars in heaven to have our babies and Yman in a great condition here with us!
You never know what to expect while you are breeding .... , and it does not mean that it always goes the normal way.... as I said you never know....you always learn and hope and pray for best.... the nature has always the last word.....