we proudly presents our most elegant couple

 


PEDIGREE of planned litter


USA-Australia-Canada-EU bloodlines

Info pre záujemcov o šteniatko -TU!

Info for interested new owners - HERE !

 Haiba Kaisoon Dodger Designed By Diesel


 Dreamed Yman by Luanda
Sir: Roisholas Cavan The Heartbreaker /import USA/
Dam:

Haiba Kaisoon Ceiju





Date of Birth: *14.01.2010
Height: 69 cm, Weight:40kg - in his 8years !
Correct complete scissors bite
HD:0/0, ED:0/0, OCD:0/0,
DM tested: -N/N no carrier
JME: N/N - no carrier
Thyroid - clear
Liver gene /B-locus: no tested, possibly may be a carrier due to his ancestors
Blue gene /D-locus: D/D -no carrier

Dodger is a very friendly boy to people and animals, very well socialized, has a senssitive and gentle character in every situation. He has uncomplicated behavior and has no gun-shot reaction.

Dodger is from the litter of 12 puppies, without DS, no excessive white, there were some multicrowns and 2x kinked tail.

Sir: Champion USA x Canada Thornberry Akala x
Dam: EW, C.I.B. , BISS, Multi Grand Champ. Multi Champ. & Winner Hillvalley´s Angel for Luanda /liver/)

Date of Birth: 01.01.2011 /livernose
Height:63 cm, Weight:32kg
Correct complete scissors bite
HD:0/0, ED:0/0, OCD:0/0, L7, LTV -free
spondylosis: clear
JME: N/N - no carrier
DM tested: N/N-no carrier, 
Thyroid - clear

No gun reaction & very swet temperament.... my best temperament from all my ridgebacks girls and it is proven by her previous litters, that she pass it to her babies :-).

Yman is also a mam of our F-litter & H-litter which has developed very nice in body, character and also in all health aspects all healthy to my knowledge!
Yman comes from our D-litter.
Yman´s web here.

Dodger 8years old - January 2018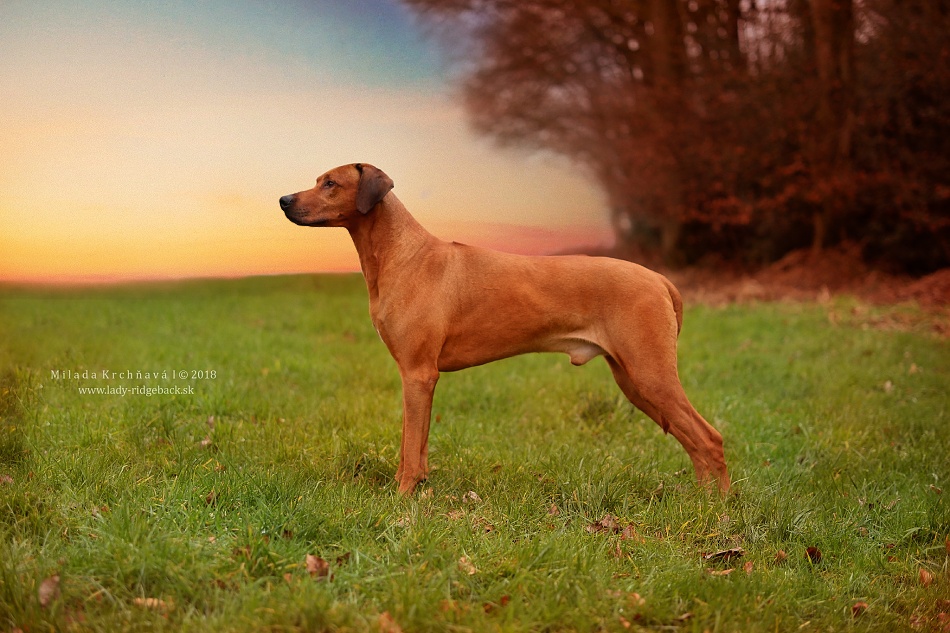 Dodger was born in a healthy litter of 12 puppies, only faults according to standard were there: some multicrowns and 2kinked tails.

I have Dodger in my "Stud dog" list added since I sow him on this photo from Karin van Klaveren. January 2014 /on the photo he just turned 4years./
That time I told myself, ok, I wait until he has some progeny... and as the time flyed, I could not find more information about him, and was searching.
I remember Dodger grandmam Haiba Kaisoon a Sun Beams Gentle *19.02.2000 from internet searching and followed her for some years. She was pretty succesful girl, and delivered some beautiful progeny.
Ok, but lets go back to the story about Dodger.
I had some other "boyfriend" in my mind too, but I am the way that I needed to know about Dodger before making the final decission. Autumn 2017 I contacted the Dodger owner.
Evelyn said that it seems that Dodger will be not awailable for my girl at that time, but I asked her more and more until I had all information needed. I wondered why Evelyn was so "shy" and not keen on breeding with Dodger, and she told me about her bad expereinces with some breeder from Germany and about not successfull matting, and than about gossiping about her boy /because one local german breeder reserved him 2x for matting and did not arrived in the best time,but changed to another boy without any word, and other case was that there was a girl who was not pregnant/. Due gossipers who made from nothing a big "thing" Evelyn felt dissapointed, and stopped to trust breeders. Well I must say that it is a shame that because of gossiping people Dodger was not used in breeding! What a waste of such quality = anatomy, health and pedigree ! At the very end of the year I did my final decission -I dont care about gossiping people, I have my own instincts and my own mind, and for the last Yman litter choosed Dodger, because to me he is such an awesome boy, not only in temperament, but also is beautiful in movement and his body constitution is to me very close to my standard ideal RR. And yes he is so elegant even in age 8 years, not massive at all ! How many ridgebacks do you know is elegant in age of 8years ? ... I dont know that many :) ... Pleasse see his photogallery bellow.
What I see in Dodger ? I love when the dog just stop himself and see him just perfect in natural stack and looking just wonderful.... exactly like Dodger, Yman and parents of Yman = Akala and Ani... etc,.
To me Dodger has a lovely head exactly the size what fits to his body. I love about him his elegant neck, very corectly setled into body.  He has correct forechest and the lenght of the upper and lower arm is same, what is not common in our breed, with a correct angle. He has a nice strong topline, correct depth of chest and lenght of loin. The tail is well set and carried. His rear angulation is very correct with a low hocks. This all in one pack make him very well balanced in movement and if he live in Africa he has a lots of endurance.
With exteriour of Dodger and Yman I expect to have puppies which could be close to my aim of my breeding, just of course the nature has the last word so lets see what the future bring us. Dodger is a healthy boy not having any allergies or illnesses. He lives an active life with his family.
In November 2017 Dodger had his first litter of a 9puppies, all with correct ridges. Althought he is not tested for liver gene, there is a possibility of having a liver baby, as his vather Cavan carried the gene.
Dodger comes from a D-litter of Haiba Kaisoon Ceiju x Rokishoals Cavan the Heartbreaker - import USA. I already mentioned grandmother "Alela" that I liked her very much.
On this place I am so pleassed to know also Dodger´s breeder Nicolette Foschum /Haiba Kaisoon kennel/, /while we visited Germany on January 2018/ who have done such a nice "breeders homework" . She is no breeding just to have another litter, but she always decided for a Sir of the litter who could improve and bring something new to her bloodlines -thats the way I see it from her previous breeding.

I must mention also Dodger´s vather "Cavan" - Rokishoals Cavan the Heartbreaker - import USA, owner Anne C. Dalsgård, here is a story about Cavan written by Anne:
Cavan was out of some of the best bloodlines in U.S.A. His lineage was very interesting and you can see some of his famous Family in his pedigree. Cavan's great granddam, U.S.CH. Kwetu´s Peace Chance, is a full sister to the well-know DK.S.CH.BISS Kwetu´s Xoxa in Denmark. Cavan´s sire, U.S.Ch. Rakiara's Stuntman, has sired many champions. His grandsire, U.S.CH.Kimani´s Sharper Image, was sire to our foundation bitch, Rakiara´s Taittinger Queen. He was U.S. stud dog of the year in 1997 and won Award of Merit at the RRCUSA National Specialty. He also won Best of Breed at Westminster. U.S. Ch. Kimani's Sharper Image is also the grandsire of U.S. Ch. Rakiara's Stuntman. Cavan´s pedigree was based on top dogs.Cavan was out of a healthy litter of nine, all with showquality ridges, with no dermoid sinus. Several of his littermates was doing well in the show ring. Cavan was only shown four times. The first three times in puppy class, and he was chosen best puppy twice, once at the Danish Specialty. He was shown one time in "open class" and won 1.price. ck and got his 1.certification .Today Ì could wish I had show him more, he had marevelous movement , the best I ever have seen! The reason he didn´t was showing more, was me, I need at this time a break from " the dog world" ! said Anne. Cavan had only 3-litters - 29puppies - and there was also one liver baby.


Yman is my sunshine with the most sweet character I have in my rr pack, and she gave it to her babies from her previous litters.
She has exactly the body I was dreamed to improve in my ridgebacks. Her front chest is so beautiful, hard to find in EU similar -for me.
Since she was a baby she needed a longer time to develope, and only a breed specialists recognized her qualities and placed her with 1st. place even as the best bitch of the show, + more wins as is the best ridge and best movements. Yman is from our D litter after my legendary girl BISS, EU Winner, ICh, Multi Grand Ch, Multi Ch -Hillvalley´s Angel for Luanda and a beautiful Champion of Canada & USA -Thornberry Akala from Canada.
I did not show her as often as her mam and her half sister, as I have my "own litter" 2legged - twins.
Ymi is very elegant girl, with perfect body in my eyes, and she gives her best to her babies. Yman has untill now 2 litters. Some of her first litter F-litter are already tested and all are Healthy. Her second litter is H-litter - containing 4babies 2boys, 2girls /1girl liver nosed/ they live active lifes with theirs wonderful families.
I believe we can welcome this year a beautiful bunch of healthy puppies.